ElectroStories #7.10 (Nouvel An 2022)
Phildz 31 décembre 2021
Electro Stories - S7 10 INTRO

Phildz

Electro Stories - S7 10 PART 1

Phildz

Electro Stories - S7 10 PART 2

Phildz

Electro Stories - S7 10 PART 3

Phildz

Electro Stories - S7 10 PART 4

Phildz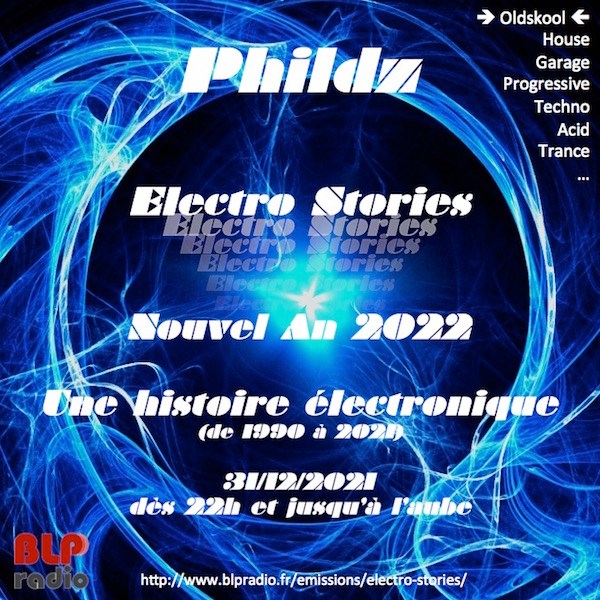 C'est avec passion que je vous souhaite une excellente année 2022 !
Au menu de ce nouvel an : une soirée 100% électro, une page d'histoire racontée en 100 titres répartis entre 1991 et 2021, le tout sur environ 8h40 de mix non stop reprenant des classiques Garage, House, Progressive, Tech House, Techno, Acid, Trance… ainsi que quelques B-sides et des titres parfois presque oubliés mais non moins fabuleux.
Dans ces 30 années de musiques électroniques, on retrouvera notamment :
– des références de la house US : Frankie Knuckles (surnommé the Godfather of house qui nous a laissés orphelins en 2014), Todd Terry, David Morales,
– des références de la scène techno US : Josh Wink, Joey Beltram, Green Velvet, Paperclip People (aka Carl Craig), Maceo Plex, Moby
– le gardien de la scène techno & minimale canadienne : Plastikman (aka Richie Hawtin)
– des pionniers de la scène française : Laurent Garnier, Daft Punk, Technasia, Emmanuel Top,
– des grands noms de la scène anglaise : Dave Clarke, CJ Bolland,
– la scène belge ancienne et nouvelle génération : Jones & Stephenson, Yves Deruyter, Charlotte de Witte,
– une référence trance de la scène italienne : Age Of Love
– sans oublier la scène allemande : le son acid de Hardfloor, le son techno de Paul Kalkbrenner ou encore de Timo Maas, une des références de la période trance portée par L.S.G. (aka Pascal F.E.O.S qui nous a malheureusement quittés en 2020)
Vivez, dansez, écoutez, « ravez », et surtout faites la fête !
Tracklist :
01 – Frankie Knuckles – The Whistle Song (E.K. 12 Inch Mix) (Virgin America VUST 47) (1991)
02 – The Don – The Horn Song (Strictly Rhythm SR 12539) (1998)
03 – Michelle Ayers – Respect (Organmental Mix) (Feel The Rhythm FTR 3817-6) (1993)
04 – Degrees Of Motion – Do You Want It Right Now (King St. Mix) (Esquire Records ESQ 181) (1991)
05 – Hardrive -Deep Inside (Strictly Rhythm SREP02D) (1993)
06 – Lisa Lisa & Cult Jam — Let The Beat Hit 'Em (Columbia 657286 8) (1991)
07 – Crystal Waters – Gypsy Woman (She's Homeless) (Mercury 868 397-1) (1991)
08 – Todd Terry – Jumpin' (TNT Records TNT-06) (1993)
09 – X Press 2 – London X Press (Junior Boy's Own JBO 12) (1993)
10 – David Morales, Albert Cabrera – Higher (Stereo Dub) (Urban URBDJ 2082) (2000)
11 – Moby – Into The Blue (Sound Factory Dub) (Mute PXL12MUTE179) (1995)
12 – Lil' Mo' Yin Yang – Reach (Little More Mix) (Strictly Rhythm SR12380) (1995)
13 – The Aquanauts – Karma (Hardhouse Mix) (Guidance Recordings GDR 008) (1996)
14 – Mark Grant – Spirit Of The Black Ghost (The Blacker Mix) (Guidance Recordings 15) (1997)
15 – Rhythm Masters – Imagination (Dis-Funktional Recordings dfun 004) (1997)
16 – Rozzo – Into Your Heart (Into Your Space) (Bush 1019) (1994)
17 – Josh Wink – Stay Out All Night (Organ Mix) (Ovum 189) (2008)
18 – Neville Watson, Kink – Blueprint (Music Response Records MRR1004CD) (2009)
19 – Frank De Wulf – Raise (Music Man Records MMI 9331) (1992)
20 – Jambo ! – Drumattack (Ravimix) (Wonka Beats WONKA 1002) (1992)
21 – Serpico – Just Can't Stop (Incantation Mix) (Not On Label SAN 001) (1992)
22 – Castle Trancelott – Resonance (Slate MMP 002) (1995)
23 – Tata Box Inhibitors – Plasmids (Placid Mix) (Touché TOU 9404) (1994)
24 – Paperclip People – Raw (Touché TOU 9625) (1996)
25 – Felix Da Housecat – The Chaos Engine (Dobre & Jamez Remix) (Touché TOU 9514) (1995)
26 – Paperclip People – Throw (Planet E PE PCP 1) (1994)
27 – Paperclip People – 4 My Peepz (Dubfire Rework) (Planet E Communication PLE653343) (2011)
28 – Carl Craig – At Les (Christian Smith's Tronic Treatment Mix) (Tronic TR53) (2010)
29 – Underground Resistance – Transition (Underground Resistance UR-3000) (2002)
30 – JB3 – Slice (Buss Bush 100) (2001)
31 – Christian Boree – Anastacia's Teeth (Kanzleramt KA 50-2) (2000)
32 – Richard Bartz – Holographic 3 (Kurbel kur 015) (1999)
33 – Heiko Laux – There There (Kanzleramt KA167) (2014)
34 – Gregor Tresher – Kingdom Of Light (Break New Soil BSNCD002) (2011)
35 – Timo Maas – Subtellite (Argy Remix) (Cocoon CORDIG006) (2009)
36 – Paul Kalkbrenner – Gebrunn Gebrunn (Special Berlin Calling Edit) (Bpitch Control BPC185) (2008)
37 – Robert Babicz – Dark Flower (Joris Voorn Magnolia Mix) (Automatique) (2008)
38 – The Aztec Mystic A.K.A DJ Rolando – Jaguar (Underground Resistance UR-049) (1999)
39 – Inner City, Kevin Saunderson – Good Life (Ian O'Donovan Remix) (KMS Records KMS128) (2013)
40 – Jules Wells – Song4Clara (Laurent Maldo Remix) (KMS Records KMS142) (2014)
41 – Ian O'Donovan – Medera (Heavy Reel HVRL009) (2013)
42 – Recondite – PSY (Innervisions IV50I) (2014)
43 – Paul Nazca – Memory (Biotech Recordings BT057) (2017)
44 – Technasia – Descent (Technasia TA 01) (1998)
45 – Heiko Laux – Souldancer / A1 (Kurbel KURBEL 014) (1998)
46 – Laurent Garnier – Flashback (Lil Louis Civilized Instrumental Painting) (F Communications F068) (1997)
47 – Der Dritte Raum – Trommelmaschine (Harthouse HH LP 017) (1996)
48 – Joey Beltram vs Technasia-(The start it up-Original)-2000
49 – Speedy J – Pullover (Stealth Records STR 17) (1991)
50 – Daft Punk – Rollin' & Scratchin' (Virgin) (1997)
51 – Green Velvet – Destination Unknown (Music Man MM030) (1997)
52 – Green Velvet – Explorer (Relief Records RR 730) (1995)
53 – Emmanuel Top – Turkish Bazar (Attack Records ATT-V-94 002) (1994)
54 – Emmanuel Top – So Cold (Dance Opera DO 419) (1995)
55 – Emmanuel Top – Acid Phase (Attack Records ATT-V-94 003) (1994)
56 – Secret Cinema – Timeless altitude (Music Man Records MM 003) (1994)
57 – Dave Clarke – Wisdom to the wise (Jatran Remix) (Re-load Records REL 9409) (1994)
58 – Drax – Amphetamine (Trope Recordings trope 008) (1994)
59 – Head Doctor – Fantasma De Escobar (Millennium Records MILL 008-TW) (1994)
60 – The Source Experience – Unknown Territory (R & S Records RS 94056) (1994)
61 – Two Pieces – Magic Bells (Demo Mix) (Music Man Records MMI 9094) (1992)
62 – Robert Armani – Hit Hard (Music Man Records MM 001) (1994)
63 – Vainqueur – Lyot (Maurizio Mix) (Maurizio M-2) (1992)
64 – Reload – Peschi (Evolution 002) (1992)
65 – L.S.G. – Fragile (Superstition 2011) (1993)
66 – Inocybe – Inocybe Radicata (Music Man Records MMI 9445) (1993)
67 – Der Dritte Raum – Hale Bopp (Virgin 7243 8 95256 6 3) (1998)
68 – The Advent, CJ Bolland, Maceo Plex – Camargue 2019 (Maceo Plex Remix) (Drumcode DC210) (2019)
69 – Age Of Love – The Age Of Love (Charlotte de Witte & Enrico Sangiuliano Remix) (Diki Records DIKI2101D) (2021)
70 – Energy 52 – Cafe Del Mar (Tale Of Us Renaissance Remix) (Renaissance Records 190296954047) (2018)
71 – Peter Lazonby – Sacred Cycles (Brainiak Records BRAINK 37 R) (1995)
72 – Plastikman – Spastik (NovaMute 12 NoMu 28) (1993)
73 – Hardfloor – Lost in the silver box (Harthouse HHLP1) (1993)
74 – DJ Misjah – Keep Your Love (X-Trax X-004) (1995)
75 – Cherrymoon Trax – The House Of House (Thomas Schumacher Remix) (Electric Ballroom EBM018) (2019)
76 – Yves Deruyter – Calling earth (Mayflower mix) (Bonzai Records BR 95083) (1995)
77 – Union Jack – Two Full Moons And A Trout (Platipus ‎PLAT 06) (1993)
78 – The Martian – Star dancer (Red Planet RP 2) (1993)
79 – Vapourspace – Gravitational Arch Of 10 (Plus 8 Records plus8023) (1993)
80 – Zero Gravity – Medicine Man (Le Petit Prince Prince 95 21) (1995)
81 – Yantra – 360 (Flutter mix) (Music Man Records MM 008) (1995)
82 – Yantra – Purple Vicar (Music Man Records MM 013) (1995)
83 – Lady B – The groove is going (Evolutive hard house mix) (F Communications F 015) (1994)
84 – Paul Nazca – Surface (Scandium Records SC06) (2001)
85 – DJ Gilb-R – Pressure (Laurentlaboratoiral'ancienne Mix) (Versatile Records VER 005) (1997)
86 – Laurent Garnier – Panoramix (Innervisions) (2008)
87 – Extrawelt – Sooperfool Tool (Border Community 08BC) (2005)
88 – Patrick Dubois – Isoghi (Isoghi ISOGHI 10) (2002)
89 – Paul Kalkbrenner – Altes Kamuffel (BPitch Control BPC 153) (2007)
90 – Sailor & I – Black Swan (Maceo Plex Remix) (Skint Records 4050538258967) (2016)
91 – Pachanga Boys – Time (Hippie Dance HIPPIEDANCE02) (2012)
92 – Remake – Blade Runner (Maceo Plex Renaissance Remix) (Renaissance Records 190296953071) (2018)
93 – Fabrizio Rat – Lost (Involve Records INV027) (2019)
94 – Jones & Stephenson – The First Rebirth (Reinier Zonneveld Remix) (Filth on Acid FOA080) (2018)
95 – Patrick Chardronnet – Oxygene Part II (Second State SNDST044) (2018)
96 – L.S.G. – When It's Dark Outside (Oliver Lieb Remix) (Bonzai Progressive BP7352018) (2018)
97 – Laurent Garnier – From The Crypt To The Astrofloor (Kompakt KOMPAKTEX095D) (2017)
98 – Quenum – Dune (Nicolas Masseyeff Remix) (Diversions Music DVM015) (2021)
99 – Pig&Dan – Bulgaria (fryhide FHINS009) (2019)
100 – Rone – Parade (Dominik Eulberg remix) (InFine 38296) (2012)
---
---